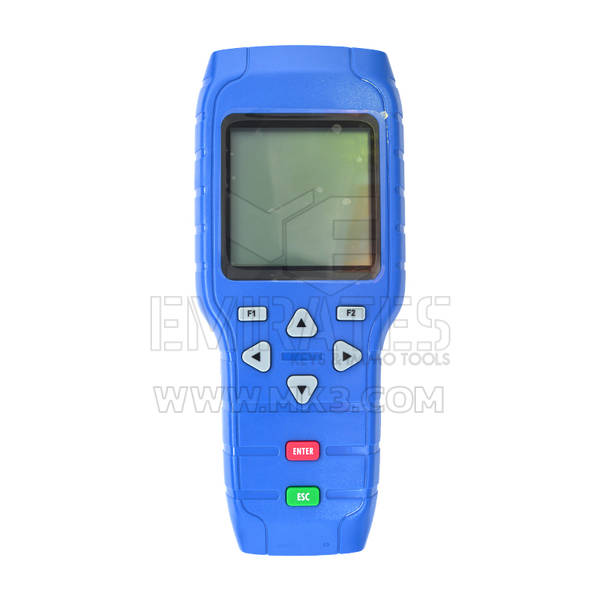 Video
MK9905
OBDSTAR X100 Pro X100Pro Auto Key Programmer
Product Specifications
Manufacturer
OBDSTAR
Color
Red
Condition
New
Weight
1690 g
OBDStar X-100 PRO Auto Key Programmer is the handheld car key programming device in immobilizer units on vehicles, New X-100 Pro car key programmer is the upgrade version of old X-100+ programemr, New X-100 Pro is developed and produced by OBDSTAR Technology co., LTD
---

Original X-100 PRO AUTO KEY PROGRAMMER X100 Pro Immobilizer device

Language: English

Optional X-100 PRO Auto key programmer - X-100 PRO English Version Software Configuration:

1: Optional Configuration ( C ): IMMOBILISER+ OBD software
2: Optional Configuration ( D ): Odometer adjustment+ OBD software
3: Optional Configuration (C+E): IMMOBILISER+ OBD software and EEPROM adapter
4: Optional Configuration ( C+D+E ): Full version software + EEPROM adapter

Configuration(C): Immobiliser + OBD
1. X-100 PRO main unit;
2. OBDII-16 connector;
3. HONDA-3 connector;
4. HYUNDAI/KIA-10 connector;
5. KIA-20 connector;
6. Main Cable;
7. TF Card;
8. TF Card Reader;
9. X-100 PRO user's manual;

Configuration(D): Odometer adjustment+ OBD
1. X-100 PRO main unit;
2. OBDII-16 connector;
3. Main Cable;
4. TF Card;
5. TF Card Reader;
6. X-100 PRO user's manual;

Configuration(C+D):Immobiliser + Odometer adjustment + OBD
1. X-100 PRO main unit;
2. OBDII-16 connector;
3. HONDA-3 connector;
4. HYUNDAI/KIA-10 connector;
5. KIA-20 connector;
6. Main Cable;
7. TF Card;
8. TF Card Reader;
9. X-100 PRO user's manual;

Configuration(E): EEprom PIC adapter:


And the more cars' software will be released at the offical website. you can update the hardware and software by internet.
Remark: including x-100+ all the matching function and add new software function in X-100 PRO.
Software update Via official website : www.obdstar.com

The difference between X-100 PRO and old X-100+, new x-100 pro video demo introduction:


X-100 PRO is a new generation of portable handheld instrument developed and produced by OBDSTAR Technology co., LTD., The difference from Old X-100+ is as follows:

1. Inherited the overall look of the original X-100+ (X-100 plus), changed the new silicone button, feel more comfortable;
2. Adjusted the TF card slot position in mold, fit more tightly than previous generation, card plug will not go inside the machine;
3. New design of PCB hardware, greatly improved configuration ;
4. Software downloading speed is improved by more than 50%;
5. New upgraded software operating system, added operating interactive prompt ;
6. High-capacity 4G TF card, more stable performance, never appear white screen;
7. Update via Internet;
8. Free update for 3 years.

With X-100 PRO, Without worries about Matching!
X-100 PRO Auto Key Programmer is a kind of handheld device for programming keys in immobilizer units on vehicles. This scan tool has a simple and robust design, to make your vehicle service experience much easier!

X-100 Pro Vehicle Coverage:
ACURA、AUDI、BAIC、BESTURN、BRILLIANE、BYD、CHANGAN、CHANGFENG、CHANGHE、CHERY、CHRYSLER、CITROEN、DFFENGSHEN、DFLZ、DS、FORD、GEELY、GM、GREATWALL、HAFEI、HNMAZDA、HONDA、HONGQI、HUAPU、HYUNDAI、INFINITI、JAC、JAGUAR、KIA、LANDROVER、LEXUS、LIFAN、LINCOLN、LUFENG、MAZDA、MG、MITSUBISHI、NISSAN、OPEL、PEUGEOT、PORSCHE、(PROTON Only to Malaysia)、QNLOTUS、RENAULT、ROEWE、SEAT、SKODA、SMART、SQYL、SSANGYONG、SUBARU、SUZUKI、TOYOTA、VW、ZZMAZDA、ZZNISSAN;

X-100 Pro Features:
1. New keys programming;
2. Reads keys from immobilizer's memory;
3. New immobilizer programming;
4. New ECU programming;
5. New mechanical key number programming;
6. Vehicle Identification Number programming;
7. Reset ECU&reset immobilizer;
8. Easy to operate by the guided menu programming;
9. New remote controller programming;
10. Immo PINCODE reader;
11. Odometer ajustment(Via obd);
12. With full and strong database for the most important vehicle makes;
13. Upgradeable via web-based download;
14. EEPROM Chip read (Optional);

Package list:
1. X-100 RPO programemr main unit;
2. OBDII-16 connector;
3. HONDA-3 connector;
4. HYUNDAI/KIA-10 connector;
5. KIA-20 connector;
6. Main Cable;
7. TF Card;
8. TF Card Reader;
9. X-100 PRO user's manual;
10. X-100 RPO EEPROM Adapter (Optional)