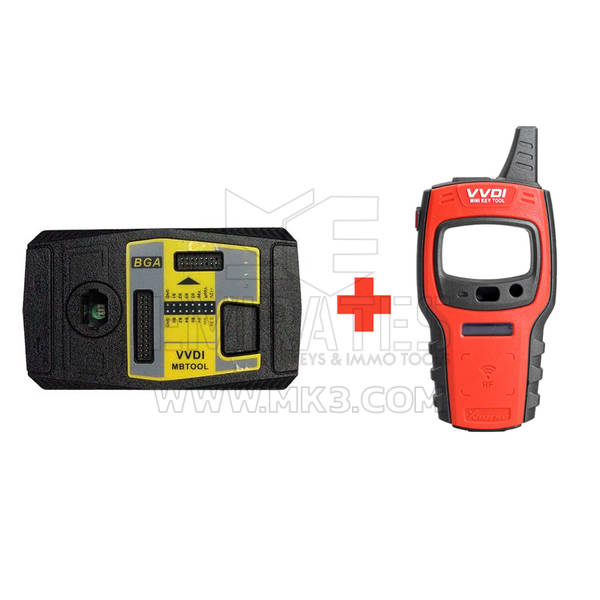 MKON39
Xhorse VVDI MB BGA Tool Mercedes Benz Key Programmer with FREE Mini Key Tool Device FREE EXPRESS SHIPPING
Product Code: MKON39
Manufacturer: Xhorse
Categories: Key Programming Tools
In Stock
Free Worldwide Shipping
On Sale
Product Specifications
Manufacturer
Xhorse
Condition
New
VVDI MB :
Xhorse VVDI MB BGA TOOL Functions

1.support BE key,read password and prepare new key via IR.
2.NEC V051,V057 support on board get password
3.All NEC keys support on board write and erase
4.password calculate:support BGA keys,NEC keys(include 51,57version)etc.,work fast.
5.support renew EIS and ELV
6.support write EIS and ELV
7.support online generate key file
8.unlock ELV function will be released soon.
9.Renew other control modules function will support soon
VVDI Mini Key Tool:
Xhorse VVDI MINI Key Tool VVDI Key Tester Works with IOS/Android EU/NA/SE/GL Version
Top 6 Reasons to Get MINI Key Tool
1. We will send GL global version,it has proxy data, and fully replace NA/EU/SE before, and customer who bought old version, update to newest firmware via xhorse update kit software is OK,it will turn out to be GL.
2.Newest Firmware Version:V1.1.6
Xhorse APP Version:1.7.4
3.Starts and runs very fast: (20 seconds to test frequency)
4. Smaller, lighter and portable.
5.Free with ID48 96bit function,Toyota H transponder generation.
6.Xhorse APP Language:English,Spanish,French,Thai,Polish,Italian,Portuguese,Hindi,Hebrew,Korean,Indonesian,Chinese
7.Support renew key function now,but you need have programming cable.