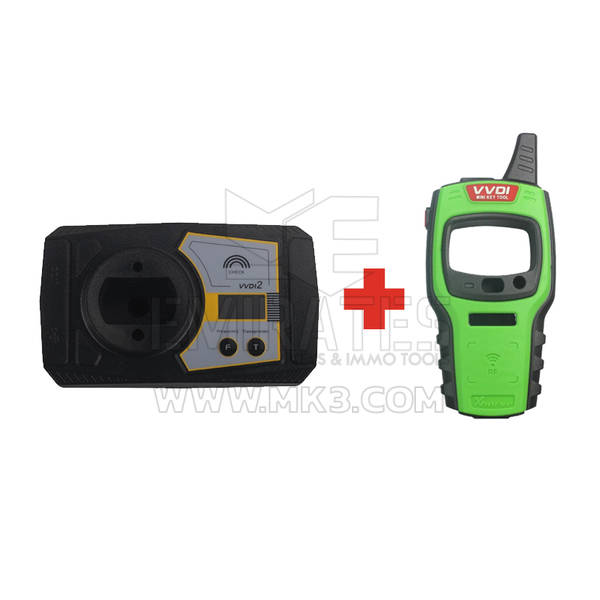 Video
MKON14
Xhorse VVDI2 VVDI 2 Key Programming OBD Tool Full Software VAG Porsche BMW PSA with FREE Mini Key Tool Device Includes FREE EXPRESS SHIPPING
$1,599.00

Was $1,730.00

(Save $131)

(approx. EUR €1,359.15)
More than 10 available
Add to Wishlist
Product Code: MKON14
Manufacturer: Xhorse
Categories: Key Programming Tools
In Stock
Free Express Shipping
On Sale
New Product
Product Specifications
Manufacturer
Xhorse
Condition
New
VVDI2:

 VVDI2 is a multifunctional automotive diagnostic platform, mainly for automotive maintenance(replace 2nd parts, diagnostics, keys, mileage etc)
 Support OBD function for VW, Audi, Skoda, Seat, Porsche, Bentley, BMW etc
 Support many transponders: Read/Write/Copy/Verify etc
 Support Immobilizer Data Tool and make remote
 Support Third – Party software, such as ODIS, VAS5054, Techstream, HDS etc
 VVDI2 device need synchronize with server every 31 days. When you get 1 days in remaining synchronization time, run software, it will synchronize with server automatically, need internet support
 VVDI2 can update firmware and software online


Activated Software List:
1) VV-01 VAG 4th immobilizer
2) VV-02 VAG 5th immobilizer
3) VV-03
4) VV-04
5) VV-05
6) VB-01 BMW OBD
7) VB-02 BMW CAS4
8) VB-03 BMW FEM
9) VP-01 Porsche immo data tool
10) VPSA-01 PSA
11) VK-01 Transponder Programmer
12) VJ-01 Passthru J2534
13) Toyota H Software Activation
VVDI Mini Key Tool:
Xhorse VVDI MINI Key Tool VVDI Key Tester Works with IOS/Android EU/NA/SE/GL Version
Top 6 Reasons to Get MINI Key Tool
1. We will send GL global version,it has proxy data, and fully replace NA/EU/SE before, and customer who bought old version, update to newest firmware via xhorse update kit software is OK,it will turn out to be GL.
2.Newest Firmware Version:V1.1.6
Xhorse APP Version:1.7.4
3.Starts and runs very fast: (20 seconds to test frequency)
4. Smaller, lighter and portable.
5.Free with ID48 96bit function,Toyota H transponder generation.
6.Xhorse APP Language:English,Spanish,French,Thai,Polish,Italian,Portuguese,Hindi,Hebrew,Korean,Indonesian,Chinese
7.Support renew key function now,but you need have programming cable.