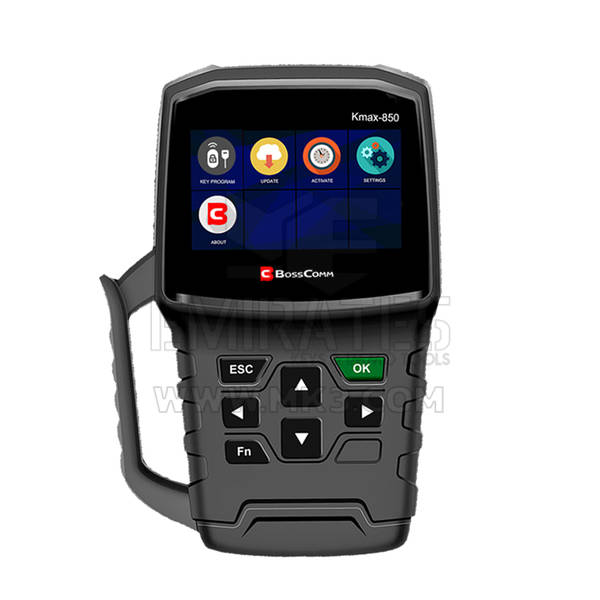 BOSSCOMM Kmax 850 Key Programming Tool FREE EXPRESS SHIPPING
Product Code: MK8693
Manufacturer: BossComm
Categories: Key Programming Tools
In Stock
Free Worldwide Shipping
New Arrival
Product Specifications
Manufacturer
BossComm
Color
Black
Condition
New
Note: this device comes with 6 months of free update service.
2019 latest key programmer -- BOSSCOMM KMAX 850
Advantages 1:
- Frequent Online Update.
- Easy plug and Program
- The fastest key programmer among competitors. Time saving
- Powerful software for American, Asian and European cars.
- Online Support.
Advantages 2:
- Read Pin Code, add keys, erase keys, all keys lost.
- With VAG 4 th and 5 th IMMO systems and MQB system, up to 2018
- Ford and Mustang up to 2018, 10 minutes wait by pass,
- GM(Chevrolet, GMC, Buick and Cadillac) up to 2018
- Chrysler Grand Cherokee up to 2017
Advantages 3:
- Toyota G and H chip all keys lost up to 2019
- Nissan with 20 digit pin code up to 2018
- Honda Accord up to 2019
- Renault up to 2017, read pin code, add keys all keys lost
- Peugeot and Citroen up to 2017, Read Pin Code, add keys and all keys lost.
Read Pin code even all keys lost.
- Subaru up to 2017, add keys and all keys lost for G chip