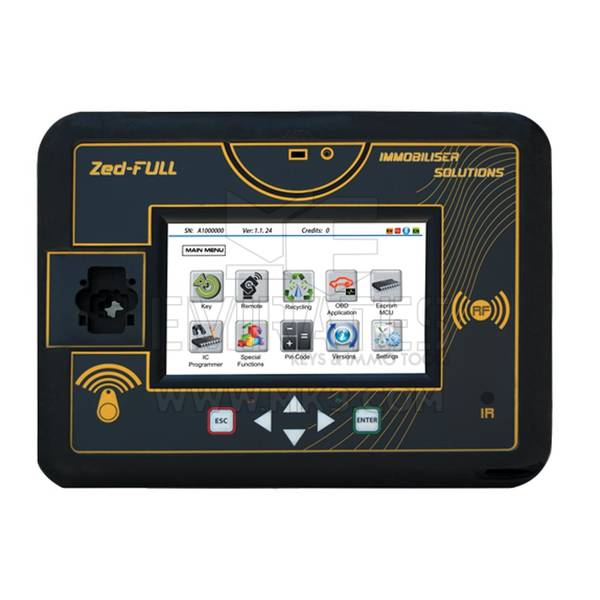 MK9941
ZED-FULL Zed Full All in One Transponder Key Programming Device Istanbul Anahtar FREE EXPRESS SHIPPING
Product Code: MK9941
Manufacturer: Zed Full
Categories: Key Programming Tools
In Stock
Free Express Shipping
New Product
Product Specifications
Manufacturer
IEA
Weight
4261 g
Zed-FULL- Immobiliser Solutions by IEA
Zed Full is the most professional and the unique all in one immobiliser device in the world with these features;Fix and crypto transponder cloning,
Remote cloning
Eeprom applications to generate transponder datas and pincodes
Programming key-remote through OBD-II ports on car for various car brands.
Zed FuLL is designed to meet all your needs related with electronic side of locksmithing and Immobiliser systems.Zed FULL has 5 different antennas for 125 Khz transponder reading and cloning, reading 13,56 Mhz hotel door cards& tags, measuring 315,433,868 Mhz remote signals, Reading and cloning Holden Commodore remote keys and programming keys for VAG Group cars.Regular updates will keep you at the top and one step ahead from all of your competitors.
1-Cloning transponders (key to key) ;
Fix codes;
11 -onto T5(Sokymat), TK5551(Temic),
12 -onto T5(Sokymat), TK5551(Temic),
13 -onto T5(Sokymat), TK5551(Temic),
14 -onto T5(Sokymat), TK5551(Temic),
33 -onto T5(Sokymat), PCF7930(Philips), PCF7931(Philips),
73 -onto T5(Sokymat), PCF7930(Philips), PCF7931(Philips),
4C -onto EH1(Silca Electronic Head), EH2(Sica Electronic Head), TK23(Keyline Electronic Head), TK24(Keyline Electronic Head), Z4C(IEA glass transponder)TPX1(JMA glass transponder) ,CN2(China carbon transponder)
Philips crypto(PCF7935 based);
Some 40 onto T5(Sokymat), PCF7930(Philips),PCF7931(Philips), PCF7935(Philips),
41 onto PCF7935(Philips)
42 onto PCF7935(Philips)
44(Unlock VAG) onto PCF7935(Philips)
45 onto PCF7935(Philips)
Philips crypto(PCF7936 based)
46 onto TPX3-TPX4(JMA Glass Transponder), TK60(Keyline Electronic Head), TS-46 (China Carbon Transponder)
Texas Crypto DST 4D(40 Bits)
60, 61, 62, 63, 65, 67, 68, 69, 70 -onto EH2(Silca Electronic Head), TPX2(JMA Glass Transponder), CN2(China Carbon Transponder)
64 -onto EH2(Silca Electronic Head), TPX2(JMA Glass Transponder) -Temic Crypto
8C -onto Precoded 8C Transponder(can be purcahsed from IEA or IEA distributors)


2- Remote Cloning;
One of the most important advantages of Zed FULL is cloning Fiat remotes with 48 transponders onto IEA made special emulator remotes. It is really easy to clone these remotes with Zed-FULL.
These remotes are suitable for 1 button Fiat- Doblo, Albea, Punto, Palio(with 48 transponder) and 2-3 buttons Fiat-Linea, Bravo, Stilo, Ypsilon(with 48 transponder)
3- Eeprom and MCU Applications;
Zed-FULL currently has 233 different eeprom applications. With eeprom applications, you can get pincode or generate precoded or working transponders for the car. You just need to remove immobox, ECU or BSI from the car and read the correct eeprom or MCU.
Without need of computer, Zed-FULL will generate the transponder datas or the pin code of the car. All the details related with the immobox, BSI, ECU will be shown on the wide-touch screen of the Zed-FULL. Making eeprom applications would not be easier than this way. In addition to this, Zed-FULL PC software also will allow you to make eeprom applications if you already have binary, hex file of the eeprom & MCU.
4- OBD Applications;
Zed-FULL is designed to extract the pincode automatically from the car through OBD port during key-remote programming procedure. Zed-FULL has VAG(Volkswagen, Audi, Skoda, Seat), Opel-Vauxhall, Renault-Dacia, Toyota-Lexus, Ford-Mazda(Europa, USA, Australia), Falcon, Fiat-Lancia, Daewoo-Chevrolet, Hyundai-Kia, Peugeot-Citroen, Nissan, Proton, Mitsubishi, Subaru, Honda, Holden,Isuzu, Chrysler, Dodge, Jeep, GMC, GM, Renault-Volvo Truck(24Volt) key and remote programming functions via OBD-II port on the car.
5-Transponder Production;
To program a new key to a car, you should use suitable transponder inside the key. Instead of having all kinds of transponders suitable for all the car brands or models which will cost you high, you can just keep a few types of cheap blank transponders in your stock to convert them into these precoded transponders to program via OBD-II. Zed-FULL allows you to produce almost all kinds of precoded transponders using those blank transponders like PCF7930, PCF7931, PCF7935, PCF7936, Texas 4D-60 etc..
40 Opel, 41 Nissan, 42 VAG, 44 VAG-Mitsubishi, 45 Peugeot-Citroen transponders can be generated using blank PCF7935 transponders
Different types of 33 transponders like Peugeot 33, Nissan 33, VAG 33, Renault 33 can be generated using PCF7930, PCF7931, PCF7935, T5 transponders.
61 Mitsubishi, 62 Mitsubishi, 63 Ford-Mazda, 65 Suzuki, 67 Toyota-Lexus, 68 Toyota-Lexus, 69 Toyota-Lexus, 70 Toyota-Lexus transponders can be generated using blank Texas 4D-60, TPX2 JMA glass or CN2 carbon 4C-4D transponders.
73 Mitsubishi transponders can be generated using blank PCF7930, PCF7931, PCF7935 transponders
46(Hitag-2) based Audi, Chevrolet, Chrysler, Citroen, Isuzu, Peugeot, Hyundai, Hona, Kia, GMC, Mitsubishi, Nissan, Opel, Porsche, Renault, Saab, Volkswagen etc…transponders can be generated using blank PCF7936 transponders.
Mercedes E, C, G class master key transponders up to 1999 can be generated with Zed-FULL using blank PCF7935 transponders.
6- Transponder-Remote Recycling;
Most of the remote keys can be used only once and can not be used for another vehicle if it is already programmed to a vehicle. In case of having some used remotes in stock, it would be very beneficial for locksmiths or car key services to be able to use these remote keys again. The only way for that is unlocking the remote key. Sometimes unlocking procedure can be done without replacing anything from the remote key, but sometimes there is no other way than replacing an IC from the remote key PCB board. Zed-FULL functions will assist you to unlock these used remotes to make more money with less cost.
46 (Hitag-2) based Opel Vectra-C 2-3 buttons remotes, Renault Clio-II, Master, Movano, Traffic, Clio3, Modus, 1-2-3 buttons remotes, Laguna-II cards, Megane-II cards, Nissan 46 remotes, Honda 46 Remotes, Saab 46 Remotes can be reused by replacing PCF7946 or PCF7947 IC on remote key and precoding it with Zed-FULL.
Some of the Chrysler, Dodge, Jeep remotes(with big buttons) which has PCF7941 can be unlocked without Zed-FULL replacing anything from the remote key. In addition to this Suzuki PCF7936 and Honda remotes which have PCF7961 can be unlocked wihtout replacing anything from the board.
7- PC Software, Computer Connections and Updates;
However Zed-FULL is designed to be used as a stand alone device without need of computer, it has USB2 port and bluetooth module to communicate with computer. When it is plugged to computer via USB2 port drivers will be installed automatically on Windows 7 and Windows 8 OS. Zed-FULL PC software is used for these applications;
Online transponder cloning applications
Online pincode calculation applications
Activations for some period of time
Syncronisation applications to load new packs to Zed-FULL
Updating Zed-FULL application boards
Eeprom applications
Emulator unlocking
Loading credits to Zed-FULL from credit bank
PC software will not work without Zed-FULL, and will work limited without internet connection. As soon as you run PC software on a computer with internet connection, it will check the device module board versions and will ask you to update the related boards if any new update exists. Update procedure is so easy to operate and will take about 2-3 minutes for each board inside Zed-FULL.
Moreover, we are preparing an Android Application for Zed-FULL which will alllow you to use all PC applications listed above through your smart phones.
8- Hardware Details;
7inch HD-TFT Touch Screen; With the high resolution and wide screen, you will enjoy using Zed-FULL. Wide screen will allow us to show all details of the applications on the screen like remote key to use during remote cloning, recycling and OBD applications, immo box and board pictures during eeprom applications, transponder types during transponder production, transponder cloning applications etc…
Zed-FULL has just one OBD-II cable for all OBD-II applications. You won' t be lost among many types of cables for OBD-II applications anymore.
Steering wheel holder, will help you during OBD applciations on the car. You may easyly insert Zed-FULL on steering wheel and operate the device using touch screen to program keys and remotes to the car.
Zed-FULL is designed to have all functions related with immobiliser in one device. So Zed-FULL will meet almost all of your needs for your key-remote programming service.
Zed-FULL is the unique immobiliser device which supports both 12 and 24 Volt battery installed vehicles. That means trucks also can be programmed with Zed-FULL without need of any additional hardware.
With Zed-FULL Probe cable, you can also check the voltage of car or remote key batteries. Also with same cable you can check the continuity of the wire connections during eeprom applications or any other applciation you may need to check wire connections.
9- Extended Applications;
Reading Km, chassis and key informations from original EWS BMW remotes and writing onto an original remote
Fiat Panda 46 pin code calculation from key (with internet)
Nissan Almera and Primera 46 pincode calculation from key (with internet)
Renault Symbol-Dacia Duster Continental Box 46 pincode calculation from key (with internet)
Finding pincodes from keys for 33 Renault, 45 Peugeot, Reanult 60-64
Hyundai & KIA pincode calculation from VIN number(supports up to 2007)
Hyundai & KIA pincode calculation from key(no need internet connection)
Pincode calculation from Nissan ICU – SEC- BCM immobiliser box labels
Unlocking Megamos 48 Magic-II tranponders
Unlimited customer database on PC software
48 Unlockable CAN Bus transponder programming
Tranponder catalouge; With help of this catalogue, you can learn which
transponder is used for which vehicle on which year.
Producing fix coded transponders (11, 12, 13, 33 Renault, Texsas 4C ) from Eeprom datas.
Reseting unlocked 4D-60 Texas crypto transponders
Measuring 315,433,868 Mhz remote frequncies.
10- Purchase ways of Zed-FULL
Istanbul Elektronik Anahtar has a wide distribution network all over the world for Zed-FULL sales. It is important for us to give the best technical support and best functionalities for our clients. You may purchase Zed-FULL from your local IEA distributors or if you don't have a local supplier in your country you can directly contact to us from info@istanbulanahtar.com e-mail address.
There are 3 different ways to use Zed-FULL applications. For all kinds, first you should purchase a Zed-FULL Basic Unit then choose your option to use Zed- FULL softwares,
Credit system; Instead of buying all applications, you may purchase credits to use applications. There is only one type credit for all types of applications.
Buyying single packs or pack groups; You can buy the most popular applications for your market which would be a good way instead of spending credits every time. For the applications you meet rarely you can continue to use credit system.
LIFS; you can buy all packs for a certain time of period like 3 months, 6 months or 1 year. In this case you will not have any limitation using Zed-FULL for any application. Moreover in your subcription period all software updates will be completely FREE.
Unlimited Usage:
The Zed-Full Key Programmer has many different ways to operate it
- You can purchase a specific software and run it for free for life time
- Credits, which you can program any software by it
- LIFS ((Less Investment Full Software)) ** this is a full software subscription option, which is available for 3,6,12 months **
We add a new option, which will make you run your business much easier, It is our new 24 Hour unlimited use package.
It allows totally unlimited use of your Zed-FULL for any 24 hour period.So, on days where you are going to be using your Zed-FULL for a quantity of work, a 24-hour package could be the best choice.
The 24 Hour package can be purchased in packs of 5, giving you 5 x 24 hour periods.
You can switch on a 24-hour period at any time, simply by connecting your Zed-FULL to the internet.
The Zed-FULL will then run, credit-free, for the next 24 hours.
Your remaining 24 hour packs can be used as and when you require, and they will never expired.
Benefits of the 24-Hour Pack
- Many programming procedures use more than 40 credits (Merc, BMW etc.) so switch on a 24hr period and limit your cost
- On days where you have no programming to do, you are not paying.
- Don't worry about wasted credit or jobs that go wrong.
- Don't worry about what to charge the customers, your cost is limited and you can use it
24hr unlimited use days can only be added to your account in office hours so please ensure you have your 5 days pre purchased and ready on your Zed-Full for when you want to use them, (Once added to your account, they can be activated at any hour).
Contact sales@mk3.com for prices and more information.