Xtool TP150 Tire Pressure Diagnostic Device
MK6982








Xtool TP150 Tire Pressure Diagnostic Device
$230.00

(€218.50)
In Stock
Product Specifications
| | |
| --- | --- |
| Manufacturer | Xtool |
| Condition | New |
Xtool TP150 Tire Pressure Monitoring System OBD2 Tpms Diagnostic Scanner Work With 315&433 Mhz Sensor
---
What's Xtool TP150 ?
Xtool TP150 May Be A TPMS Diagnostic And Repair Tool That May Active Tpms Sensors, Read Sensors Data And Do Key Fob Testing, Read Tire Pressure In Real-time View The Training Step, And Tire Support Multi-language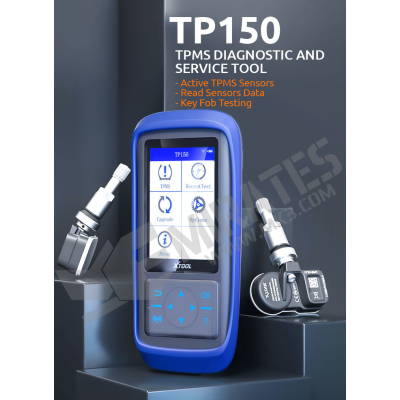 Top Reasons To Getting Xtool TP150
Support Trigger All Of The Tire Pressure Sensors Which Waveband Is 315mhz And 433mhz.
Support Reading, Writing In Sensor's Id Values.
Support Tire Pressure Sensor Programming And Program Eight Tire Pressure Sensors In Real-time.
Support Tire Pressure Faulty Diagnosis, Including Reading Code, Clear Code, Etc.
Support Read Tire Pressure Data In Real-time Including Tire Pressure Temperature, Pressure, Battery Voltage, And Display Them During A Diagram.
Support Multi-language: English, German, French, Italian, Spanish, Portuguese, Polish, Russian
Tire Pressure Diagnostic Function Include,tire Pressure System Diagnosis,trigger Tire Pressure Sensor,view The Training Step And Tire Pressure Sensor Information,program Tire Pressure Sensor Function
1. The Function Of Tpms Scanner (Tire Pressure Monitoring System) Is To Automatically Monitor The Tire Pressure Within The Process Of Auto-running
And To Alarm The Tire Leakage And Low Atmospheric Pressure To Make Sure Safe Driving.
The TS401 Has Functions About Tpms Scanner Like Activation, Relearn, And Skim Sensor Data.

2. The Activation Function Is To Permit The Sensor To Send A Sign In Order That The Car Receiver Can Get The Sensor Information, Like Tire Pressure, Temperature, And Battery Status,
Which May Be Wont To Detect The Sensor Is Normal;

3. The Relearn Function Can Read Sensor Id And Match The Id Stored Within The Tpms ECU To Properly Display The Tire Pressure And Temperature Parameters Of Every Wheel, Allows You To Directly Read Feedback From All 4 Sensors, Clearly View The Status Of All Tpms Sensors, And Compare Sensor And Ecu Data To Instantly Pinpoint Glitches

4. Read Sensor Data Including Sensor Id, Tire Pressure, Temperature, Battery Condition, Oem Part Number, Oem Sensor Maker, And Oem Frequency.

5. When Your Key Fob Stops Working Or Starts To Perform Sporadically, It'll Be Particularly Frustrating.
The Rke & Rf Monitor Function Provides A Check For Your Key Fob To Form Sure It's In Top Condition So It'll Work Once You Need It.
(The Tool Only Tests 315mhz And 433mhz Key Fobs.)